Graceland has come a long way from its meek beginnings at 126 South Linden Street, 2nd floor of the France Building in Downtown Lamoni.
Our long running fascination with Homecoming began as Alumni Day in 1907, and in April, 1915, the first official Homecoming took place in conjunction with an annual church conference. Back in those days, a major event of the revelry was a baseball game pitting alumni against students, rather than the numerous multi-sport competitions we have evolved to today.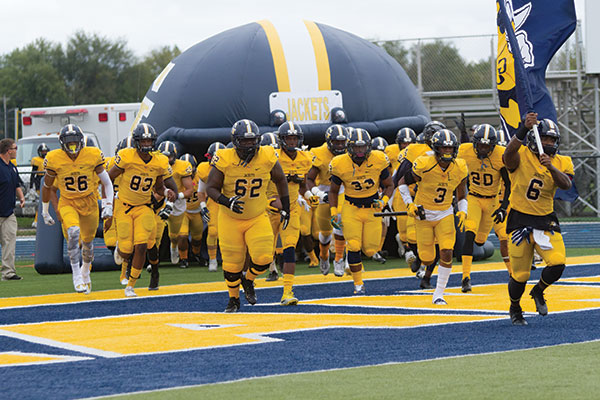 When Homecoming moved to coincide with the commencement ceremonies in June 1923, alumni making the trip back to campus for the festivities wanted to be present while school was in session, moving the three-day-long celebration permanently to October in 1925, and football was introduced to the schedule.
Just under a decade shy of a 100-year tradition on Lamoni's campus, Graceland University has perfected its festival of coming home like no other university of its capacity with a sweet show of school spirit and Yellowjacket pride. The bountiful, chock-full of fun schedule of events leaves everyone in attendance with joyous lasting memories and a yearning to come back year after year.
The festivities of 2016 kicked off with business as usual as the Board of Directors met behind closed doors in Higdon's Harpham Chapel. Friday afternoon, we honored a long-time and incredibly impactful Professor Bruce Graybill with the unveiling of a new mural in Graybill Hall. The late afternoon brought the 17th Annual Emeriti and Awards Banquet with the presentation of the Distinguished Service Award given to Mike Wiley '83; Graceland Award of Recognition bestowed upon Bill '64 and Sherry '65 Morain, Dean '53 and Soon Ja Limric, and Stephen Veazey; and Honorary Alumni Award granted to Bob Fitzgerald and Stephen Veazey.
Every day of the weekend offered each attendee an opportunity to discover the amazing talents of our Visual and Performing Arts department at Graceland in The Shaw's Family Auditorium, soaking in the vibrancy of stage and costume, hearing the beautiful melodies of many Tony Award winning numbers in Broadway on "the Hill" performed by incredibly gifted students. Who would dare to skip the long running tradition of Air Band competition between Houses, rooting for the most creative act and recognizing the immense dedication of the students involved in putting on quite the display. In third place, we have Khiyah and Orion with their interpretation of "The Notebook", runner up is Paloma, Shalom and Closson with a whimsical spin on "Alice in Wonderland", and the winner is…Solah and Agape with an action-packed rendition of "Space Jam". Upon crowning our king, Dylan Pitt of Powell house and queen, Briana Bendorf of Amici house, students, faculty, staff and alumni alike packed the stands of Huntsman Field to spur on our Yellowjackets in an unfortunate loss to Evangel University, 14 – 28. But spirits were renewed Sunday, World Communion Day, with an eloquent message from Carol Shaw. She spoke on "The Hilltop Where…Our Faith Increases," and her propitious words proclaiming God is persistent and His promise that He is with us always, left hearts overflowing with blessings as each partook in the sacrament.
This magnificent event is the overwhelming heartbeat of Graceland, and all were engulfed in the energy. Graceland University is a strong community of support built on experience and excellence, comprised of exceptional individuals dedicated to involvement, immersed in the understanding of "The Power of Together."
All these decades later, tradition still stands, and alumni make their pilgrimage back every year to relish and reminisce. We celebrate all those that came before us and encourage those prevailing on their own path to a unique "Graceland Experience".
**Source: The Graceland College Book of Knowledge, by David Goehner