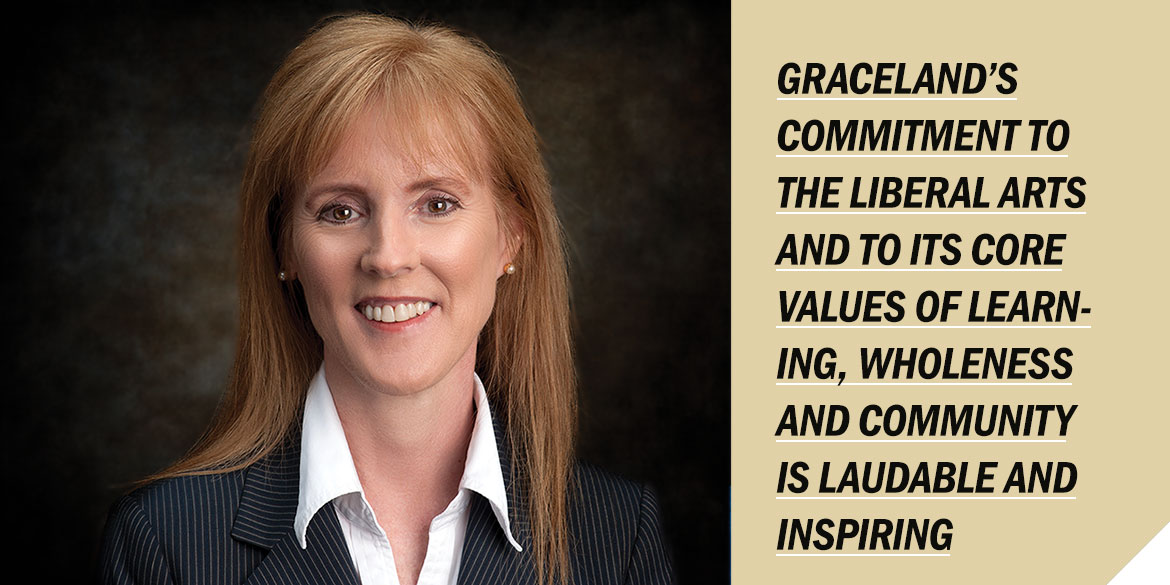 GRACELAND WELCOMES DR. JILL RHEA
Dr. Jill Rhea was hired as Vice President for Academic Affairs and Dean of Faculty effective July 1 following a national search assisted by the Association of Governing Boards of Universities and Colleges (AGB). She comes to Graceland with experience in both traditional liberal arts undergraduate education and in overseeing online, adult on-site and graduate programs.
"Graceland's commitment to the liberal arts and to its core values of learning, wholeness and community is laudable and inspiring," stated Rhea. "I am incredibly excited and honored to join the Graceland family."
After earning her PhD in organizational communication (with a related area in quantitative research methods) at Ohio University, she taught for 10 years at the University of North Texas. While there, she became a certified mediator and was a founding member of the task force charged by the chancellor with creating a university-wide alternative dispute resolution program.
For 12 years, she taught a variety of communications courses at Buena Vista University (BVU) in Iowa.
In 2013, she was promoted to the position of dean of Online, Site and Graduate Programs at BVU. As chair
of the Faculty Senate, she was an active member of the President's Council and the Dean's Council and was involved in the meetings of the Board of Trustees. She has led Buena Vista's 16 campus sites across Iowa, five graduate programs and a full slate of online programs.
"I am excited about Dr. Rhea being part of the Graceland team and confident she will be a great leader of the academic program at our university," commented President Draves.