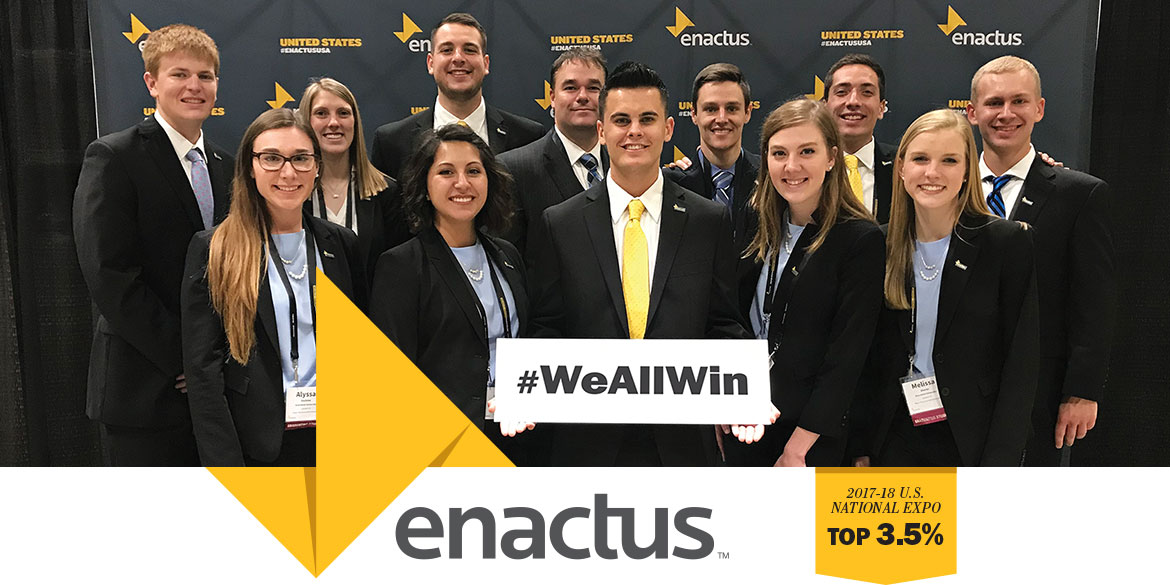 Graceland Enactus has completed the 2017-18 school year with the recognition that their efforts rank them among the top 16 teams across the entire country. We know…you've heard this before. But how many of us actually know what it means.
Graceland's Enactus program has been consistently winning awards for so long that many of us take it for granted. Not all Enactus programs are winning these awards, however, and not many teams have had the amount of success that Graceland's program has had.
When the Graceland team made it into the top 16 at the Enactus U.S. National Exposition this spring, that placed them in the top 3.5 percent in the entire country. And there are no levels that separate schools by size or financial access. Graceland University Enactus project work holds its own against schools like Penn State and the University of Florida (neither of which advanced to the semifinals this year — Graceland did).
But it's not all about the competition. At the root of this program is the act of instilling the entrepreneurial spirit into students in order to be able to touch the 1.3 million lives around the globe for whom Enactus projects are intended.
Through this work, some amazing young entrepreneurs are born, and companies across the world have taken notice. Companies like Walmart Inc., Unilever, PepsiCo and Hallmark send representatives to the national expo each year for the annual career fair. Enactus students — and only Enactus students — have direct access to on-the-spot job interviews. This year, all graduating Graceland Enactus students already had jobs lined up — a testament to the program — but it didn't stop executives from trying to steal their talents.
TIRE GARDENS IN ZAMBIA
that are now feeding hundreds of orphans

---
AEROPONICS PARTNERSHIP WITH SODEXO
that supports the sustainable growth of fresh produce for the Lamoni Food Pantry and Funshine Learning Center

---
ALEXA DOT "BRAIN BREAKS" APPLICATION
available to school teachers in 86 countries around the world, designed to enhance learning in the classroom

ENACTUS PROGRAMS
GLOBAL FOOTPRINT

72,000 Students

1,730 College Campuses

36 Countries Worldwide