Alumni eNewsletter
Want a family-friendly, fun, FREE event to attend this Saturday, May 26? Come to the Western Gateway Park in Downtown Des Moines for
CelebrAsian 2018
There will be talent on the stage, cultural displays, cooking demonstrations, Sepak Takraw and table tennis tournaments and much, much more!
The festival runs from 11 a.m. through 10 p.m. on Saturday. Admission is FREE and there is FREE parking at the Nationwide Garage (11th and Mulberry) or on the street. Food is reasonably priced.
Stop by the cooking demonstration tent to see the festival's culinary director and Graceland alumna Smita Kumari '02 Volz. Check out the Graceland booth on Grand Avenue between 12th and 13th Streets. If you would like to volunteer at the booth for an hour or two, contact Diana Jones at 515.480.4359.
Graceland Enactus Team Competes at Nationals!
Continuing in our strong academic tradition, Graceland has won the regional Enactus competition in Chicago and will now compete in the NATIONAL competition in Kansas City.
Come support the team and enjoy a reception,
Saturday, May 19, 5 p.m.
Aladdin Holiday Inn Hotel
1215 Wyandotte Street
16th floor
Kansas City, Missouri
Light hors d'oeuvres will be available along with information about the competition from team leader, Jared Doty.
Graceland's first presentation is Monday, May 21, at 1:45 p.m. at the Kansas City Convention Center, 301 W 13th Street, Kansas City, Missouri. If you would like to attend the competition presentations, please contact Jared Doty at doty@graceland.edu for a pass.
Click here to follow the pairings and results on the Enactus Nationals website.
---
Save the Date
Friday, June 15, 2018
for the
Graceland Night at a Kansas City Royals Baseball Game
It's Father's Day weekend! Start the weekend off right with a night at the ballpark!
The 2015 World Series Champion Kansas City Royals will play the 2017 World Series Champion Houston Astros at Kauffman Stadium in Kansas City. Graceland Alumni and Friends are invited to a tailgate meal before watching the ballgame followed by fireworks!
Tickets will go on sale soon. Watch your email for details.
---
Save the Date
Saturday, August 11, 2018
for the
Graceland Golf Classic
Graceland University invites alumni and friends to be part of the Graceland Golf Classic on Saturday, August 11, 2018 at the Drumm Farm Golf Club in Independence, Missouri. The tournament is a four-player scramble with an 8:15 a.m. shotgun start.

Registration information will be coming soon. For more information contact Rick Isham, Graceland University Senior Director of Development, at risham@graceland.edu.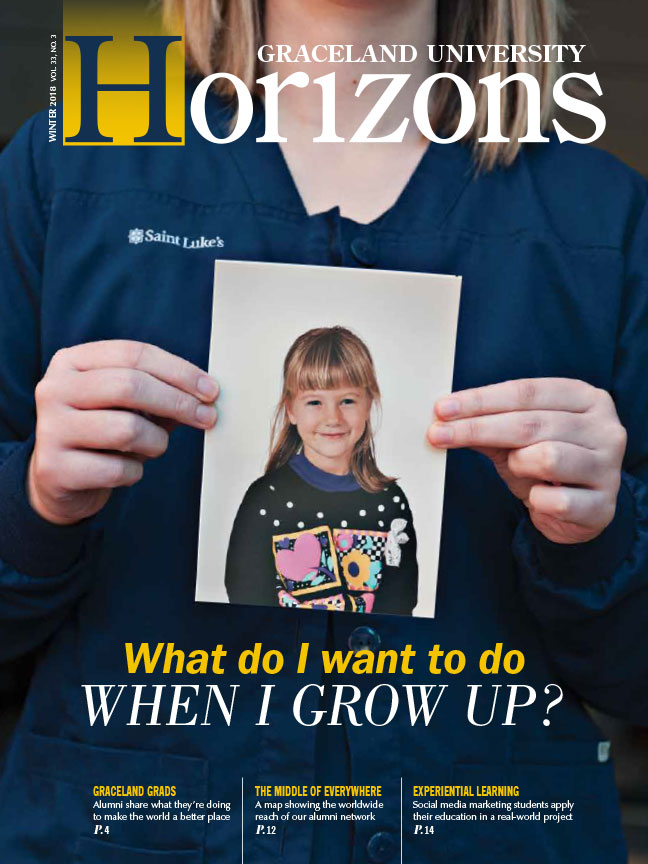 The winter edition of Horizons magazine is available online. "What do I want to do WHEN I GROW UP?" features Graceland graduates:
Christine Trewhitt '14
Kevin '08 and Lora Toncheva '07 Potter
Chelsea Tobin '11
Jeremy Graybill '98
Other articles include "Experiential Learning" and "We are Graceland - In the middle of EVERYWHERE." It also covers Graceland students and teams that have competed nationally in theatre, men's basketball, cross country, track & field, and wrestling.
A Special Edition of the Horizons featuring the 2018 National Men's Basketball Champions is also available for viewing.

Click here to view both editions of the Horizons magazine.

Get your Men's Basketball Championship t-shirts from the Graceland Bookstore. Click here to purchase online.
Congratulations to Graceland Enactus who was crowned a champion in the regional competition in Chicago, Illinois, on April 9. They now go on to the national competition which will be held in Kansas City May 20-22. Here they will be a part of 3,000 select student, business, and academic leaders from across the nation showcasing their entrepreneurial projects that help transform lives. Good Luck!
---
Haley Johnson '19, assisted by Andrew Dipoto '19, is the winner of the Irene Ryan Scholarship Contest - first nationally of over 2,000 contestants! She has also won an internship with the National New Play Network and is the co-winner of the Mark Twain Comic Performance Award. Congratulations Haley! Click here to read more about Haley's win.
---
Graceland students and alumni are gearing up for summer learning trips.
New York Theatre Experience is led by Professor of Theatre Gary Heisserer and Associate Professor of Theatre Tracy Salter.
Concert Choir Tour led by Instructor of Music Sara Blessing, is heading east. Click here for their performance schedule.
Transcultural Health Experience led by Associate Dean and Professor of Nursing Sharon Little-Stoetzel will take nursing students to Guatemala.
Experiential Learning in Spanish: Puerto Rican Culture, led by Assistant Professor of Spanish Jonathan Montalvo, will be travelling to Puerto Rico.
Republican Club Travels to Washington, D.C. is led by Vice President for Institutional Advancement Kelly Everett.
Alumni and Friends Travel to China is led by Alumni Programs Director Paul J. Davis.
Wishing them all safe travels and wonderful learning experiences!
---
Summer improvement projects coming to the Lamoni campus residence halls include:
improved ventilation and air conditioning in the Tess Morgan restrooms and main lounge;
new carpeting in key areas of Tess Morgan, Walker, Gunsolley and Graybill halls;
air conditioning in the Dan B. Kelly Lounge shared by Gunsolley and Graybill halls;
ceiling fans and upgraded lighting in the Tess Morgan main lounge;
and the Class of '67 is currently raising funds to improve the Tess Morgan patio this summer.
---
Graceland alumnus Donan Cruz '07, head coach for the Grand View Men's Volleyball team, led the Vikings to a NAIA National Invitational Championship last Saturday, April 21. Cruz was an outside hitter and defensive specialist for the Yellowjackets and got his start in coaching under Stew McDole as an intern student coach for the Women's Volleyball team. Donan just completed his 7th season with the Grand View Vikings and received the National Invitational Coach of the Year Award. Congratulations!
---
Graceland University Commencement
Sunday, April 29, 2018, 10 a.m.
Closson Center on the Lamoni Campus